Last Chanukah, I cooked for our annual SCA 8th Night event which was held in the Old City of Jaffa. When trying to come up with a Rosh Hashana menu, I realized most of the recipes I had used for this feast would be more than suitable for a Rosh Hashana meal or two. The two main courses had dried fruits, honey, wine and spices such as cinnamon.
The first course was Viaunde of Cypress Ryalle (chicken in sweet sauce), Rapes in Potage and a Mince Tarte.
The second course consisted of A Roste (Beef Roast with Crisps), Soldier's Cous cous, Isfanakh Mutajjan and A Tarte of Strawberries.
Don't worry, here are most of the recipes.
A Roste - Beef Roast with Crisps
4 TB Or more butter or oil for searing meat
5 lb. Beef roast tied with butcher's cord
1/2 c Flour
1 tsp. Cinnamon
1 tsp. Salt
1 tsp. Dried sweet basil; crushed
1/2 tsp. Dried rosemary; crushed
1/4 tsp. Thyme
1 c Dates; pits removed, cut in halves
1 c Dried figs; stems removed, -cut in strips
1/2 c Dried apple rings; cut in halves
2 TB Brown sugar or honey
1 1/2 c Beef stock
BATTER
1 c Flour
1 ea. Egg
2/3 c Milk (will use soy milk of course)
1/4 tsp. Salt
1/2 tsp. (scant) baking powder
1/4 c Chopped fresh parsley; crushed
Preheat oven to 350 degrees F. In Dutch oven or cast-iron pot (either having tight covers) melt the butter. Dredge the roast with the mixture of flour, cinnamon, and salt, and thoroughly sear in the heated butter, browning all sides. Mix basil, rosemary, and thyme. Mix spices with combined dates, figs, and apples. Arrange spiced fruits around the meat. Sprinkle sugar or drizzle honey on fruits. Carefully pour on beef stock around the edges of the pot so as to avoid 'flooding' any food surfaces. Cover tightly. Bake at 350 degrees F for 3 hours, or until tender. Remove from oven to cool for 30 minutes. Increase oven heat to 450 degrees F. Prepare a very thick batter by vigorously stirring all batter ingredients except parsley. Add extra flour if necessary. Add chopped parsley to the batter. Pour batter over the roast allowing the excess to trickle down into the gravy. Return meat to hot oven (450 degrees F) for 5 to 10 minutes so that coating browns nicely. Cut the roast in its dough jacket. Serve the 'crisps' which formed in the juices, along with the gravy and fruit.
Viaunde of Cypress Ryalle (chicken in sweet sauce)
4 cups chopped cooked chicken
1 cup white wine
1/4 cup sugar
1/2 cup honey
1/2 teasp. each ground cloves, mace and ginger
1/4 cup ground almonds
1/2 cup currants
Boil the wine and sugar together for ten minutes or until it thickens and clings to the spoon. Add honey, spices, almonds and currants and cook for an additional five minutes. Pour the sauce over the chicken, coating well. Chill well; serve cold.
Isfanakh Mutajjan
1 lb spinach
1 T sesame oil
1 clove garlic
1/4 t cumin
1/8 t coriander
1/2 t cinnamon
Boil spinach in salted water about 2 minutes.
Take spinach, cut off the lower roots, and wash: then boil lightly in salt and water, and dry. Refine sesame-oil, drop in the spinach, and stir until fragrant. Chop up a little garlic, and add. Sprinkle with fine-ground cumin, dry coriander, and cinnamon.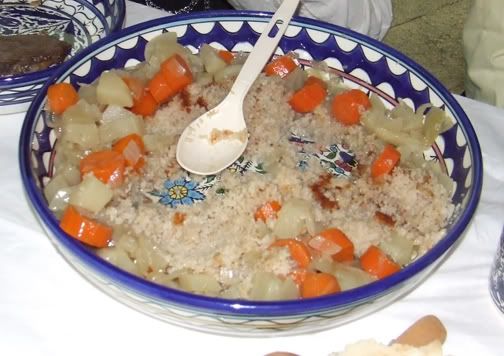 Rapes in Pottage [or Carrots or Parsnips]
1 lb turnips, carrots, or parsnips (I made a mix of carrots and turnips)
2 c chicken broth
1/2 lb onions
6 threads saffron
3/4 t salt
powder douce: 2 t sugar, 3/8 t cinnamon, 3/8 t ginger
Wash, peel, and quarter turnips (or cut into eighths if they are large), cover with boiling water and parboil for 15 minutes. If you are using carrots or parsnips, clean them and cut them up into large bite-sized pieces and parboil 10 minutes. Mince onions. Drain turnips, carrots, or parsnips, and put them with onions and chicken broth in a pot and bring to a boil. Crush saffron into about 1 t of the broth and add seasonings to pottage. Cook another 15-20 minutes, until turnips or carrots are soft to a fork and some of the liquid is boiled down.
Soldier's Cous cous
2 c. cous cous
1 can veggie broth + 1 canful water
4 T. butter
1/4 tsp cinnamon
1 t. salt
In a large pot with a good lid, bring the broth and water to a boil. Stir in the cous cous, and clap on the lid. Let sit off the heat until all the water is absorbed. Stir in the butter and sprinkle heavily with cinnamon.
Fluff with a fork to keep from being gloppy. Serves 6-8 generously.
And here are most of the Pesky family at the event. Our son is wearing my husband's colors and his tabard is my husband's SCA coat of arms - blue shofarot on a field of yellow with a diagonal blue band. The blue weird line across the top of the tabard signifies inheriting male heir.
Yeah, we're medieval geeks, what can I say?